Artist Xuan Lan
Descendants of the legendary cai luong (reformed opera) Artist Thanh Nga, plan to revive two plays in which their late relative, the "Queen of cai luong", often performed the leading role.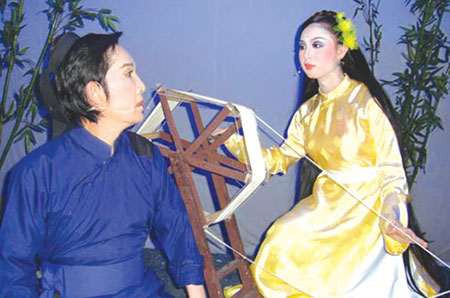 Family talent: A scene in Ben Cau Det Lua play. The artist's grandchildren have staged a revival of two of her most famous works. — Photo vcmedia.vn
Ben cau det lua (Weaving Silk by the Bridge) and Tieng trong Me Linh (Me Linh War Drumbeats) will be staged on March 1, 2, 8 and 9 in Ben Thanh Theatre in HCM City.
Twenty-six-year-old Artist Gia Bao, a grandson of Meritorious Artist Bao Quoc, the younger brother of Thanh Nga (real name Nguyen Thi Nga), has organised the reform opera programme to mark the 36th death anniversary of his grandmother and the 64th anniversary of the founding of the Thanh Minh Thanh Nga Troupe.
Bao began acting and singing at the age of 14 and organising music programmes as a young adult, following four generations of his family's participation in cai luong opera.
He was quoted in Tuoi Tre (Youth) newspaper as saying that he had decided to organise the programme because of his respect for his grandmother.
Nearly all of the artists Bao invited to sing in the programme have accepted his proposal.
Bao has taken a high risk by spending VND1.5 billion (US$71,400), all of his savings from singing, and he is holding his breath waiting for people to buy tickets.
Bao will also play the role of an orderly in the opera. His uncle, Meritorious Artist Huu Chau, and Ha Linh, son of Thanh Nga, will also participate in the programme.
Artists from the Thanh Minh Thanh Nga Troupe, some of whom live overseas, will return and perform as well.
Replacing Thanh Nga's role in Tieng Trong Me Linh will be her peer Artist Phuong Lien, who has returned to Viet Nam from the US. Female Artist Quynh Nga will play Thanh Nga's role in Ben Cau Det Lua.
Meritorious Artist Thanh Sang and Thanh Hang will perform as well.
At the age of 14, Thanh Hang, now 54, acted in Tieng Trong Me Linh together with Thanh Nga.
Bao chose Ben Cau Det Lua and Tieng Trong Me Linh operas because they were the most popular plays in which his grandmother performed.
Illustrious career
Late cai luong actress Meritorious Artist Thanh Nga was born into a family of artists in 1942 in southern Tay Ninh Province. She appeared in more than 230 cai luong operas and many films and was one of southern Viet Nam's biggest stars.
Nga first appeared on stage at age seven and then graduated to her first leading role in a romantic tragedy, Nguoi vo khong bao gio cuoi (The Wife Who Never Married), when she was 15.
Besides the two reformed operas, she was famous for her roles in Thai hau Duong Van Nga (Queen Dowager Duong Van Nga), Doi Co Luu (Ms. Luu's Life) and Nua doi huong phan (A Prostitute's Life).
Nga and husband were shot to death as they were leaving their house in 1978. She was 36. Both of them died on their way to hospital.
Tens of thousands gathered to pay respects and accompany her funeral procession to her final resting place.