Restoring Cua Dinh folk singing
Cua Dinh folk singing is a genre of ceremonial singing which is the original form of Ca Tru folk singing.
The music genre includes singing, instrument playing and dancing and is performed in the front yard of the communal house. Cua Dinh folk singing has been revitalized at Kenh communal house in Hai Phong city.
Cua Dinh singing used to be a popular music genre among the Vietnamese people. In the 1950s, for various reasons, it disappeared from the traditional festivals of rural villages.
Culture researcher Bui Trong Hien from the Institute of Vietnamese Culture and Arts said according to ancient documents, there were two troupes of Cua Dinh singers in each district from the northern provinces to Thanh Hoa, Nghe An and Ha Tinh province. These troupes usually performed in front of local communal houses. They sang at worshiping ceremonies for village genies.
Cua Dinh singing embraces the Vietnamese spiritual culture.
Researcher Bui Trong Hien said the lyrics of Cua Dinh singing embody Vietnamese folk beliefs and reflect people's daily lives. Its music is exciting and festive.
"Cua Dinh singing, the original form of Ca Tru ceremonial singing, was performed as part of a ceremony. Cua Dinh songs depict love, the homeland, and human nature, and include classic references," he said.
In recent years, Vietnamese people have tried to restore the music genre. 91-year old Nguyen Phu De of Hai Phong, the only artist that remembers all 14 ways of performing Cua Dinh.
Thanks to Mr. De's assistance, the Hai Phong Ca Tru Club managed to restore this unique music genre. Emeritus Do Quyen, Head of the Club, said for 4 months, the club's artists came to Mr. De's house to learn Cua Dinh singing.
"He is the only artist in Vietnam that has mastered Cua Dinh singing. He plays instruments and sings at the same time. He has performed Cua Dinh singing many times so he knows this genre very well. Though he is over 90 years old now, he still remembers and can hand down this art genre to the younger generation," De said.
It's urgent to restore Cua Dinh folk singing now because Mr. De is very old and he is the only artist remaining. A love of folk singing and a determination to restore ceremonial singing genres motivated artists of the Hai Phong Ca Tru club to raise money and come to Mr. De's house to learn and practice Cua Dinh singing. They have managed to restore 14 types of Cua Dinh singing.
Quyen said what concerned them most was how to preserve and hand down this art genre to younger generations. "We managed to restore Cua Dinh folk singing, but we need additional efforts and support from others to preserve and promote it," he said.
Artists of the Hai Phong Ca Tru club are patiently working to promote this unique art to wider public. This year they plan to teach younger artists and include Cua Dinh singing in extra lessons for school children.
Exhibition launched on children's portrait photos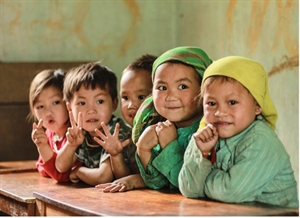 An exhibition of 10,000 portrait photos of children in Vietnam's northern mountainous regions opened in Hanoi on May 30.
The three-day exhibition marks the end of the nine-month project "Vietnam Free Photo For Children" (VFFFC) and to create a play ground for children in Hanoi on the occasion of International Children's Day (June 1).
It also hopes to inspire young people to engage in meaningful activities towards needy mountainous regions.
The VFFFC project was launched in March 2014 with the purpose of taking, recording and giving moments of pure and beautiful childhood for children in northern mountainous and remote areas, where many people have never had their photo taken.
About 10,000 children and hundreds of people in 129 villages of 30 remote communes have been photographed and received free photos.
Southern fruit festival highlights floating fruit market
A floating fruit market selling more than 150 kinds of fruit with prices 20-40 percent cheaper than that of the market constitutes one of the highlights of the annual Southern Fruit Festival that opened in Ho Chi Minh City on June 1.
The festival will run until late August at the Suoi Tien Tourist Area in District 9 with a wide range of activities such as a fruit parade, a collection of rare and giant fruits, and a fruit cooking contest.
Free tickets are available for children and their parents on June 1 – the Children's Day, while children visiting in groups will have tickets of 50 percent discount.
Music performances staged by domestic and foreign art troupes from India , the Republic of Korea , Malaysia , Indonesia , Thailand , Cambodia , and Laos and folk games are expected to surprise the festive-goers.
Started in 2004, the annual festival has become a popular cultural tourism event, honoring the agricultural values of Vietnam and the southern region in particular.
The southern region boasts 415,800 ha of land for fruit cultivation, producing around 4.3 million tonnes per year, accounting for 53.2 percent and 57 percent of the country's area and output, respectively.
Feudal Vietnam through the eyes of French photographers
Rare images of Vietnam mostly taken in the early 20th century are on display at the Ho Chi Minh City Fine Arts Museum.
The month-long exhibition showcases around 100 photos selected from an archive of more than 200,000 pictures preserved at the French School of Asian Studies.
The photos, captured by foreign researchers, archaeologists and hobby photographers, feature the daily life of Vietnam during the first half of the 20th century.
There's a photo taken in 1898 of the Cham temple ruins My Son in the central province of Quang Nam, and another of the now popular resort town Sa Pa in 1924.
There are also rare images of royal ceremonies under Bao Dai, the last emperor of the country, in 1939.
Pascal Bourdeaux, a researcher and representative of the school in Ho Chi Minh City, said the exhibition provides a view of Vietnam from the eyes of French scholars who had lived and worked in Vietnam for many years.
The photos are worth more analysis and research if anyone wants to dig deeper into the past life of the country, said Bourdeaux, who has lived in Vietnam for ten years.
Ma Thanh Cao, director of Ho Chi Minh City Fine Arts Museum, said the exhibition is not large in terms of the number of photos, but it shows "historic moments."
The exhibition will run until June 28 at 97A Pho Duc Chinh Street, District 1.
Summer music fest in Hanoi to show support for LGBT community
An all-day music festival featuring acts from across Southeast Asia to raise awareness about lesbian, gay, bisexual, and transgender (LGBT) issues will be held in Hanoi next month.
The second annual ASEAN Pride music festival, sponsored by the US Embassy, will have the theme "Celebrating Family."
Artists from the US and around the ASEAN region will take to the stage at the American Club, 19-20 Hai Ba Trung Street, from 1:00 p.m. to 11:00 p.m. on June 20.
This year's festival builds on last year's Pride Festival which celebrated diversity.
It will feature US indie rock band Thao & The Get Down Stay Down, alongside Vietnam's own transgender pop sensation Huong Giang Idol, Malaysia's O.J. Law and Thai girl rockers Yellow Fang, Saigon's COCC.
More than 4,000 people joined the first ASEAN Pride in 2014.
Children's day held for Vietnamese and Korean kids
The Korean Culture Centre in Vietnam organized the "Vietnam – Korea playground 2015" for more than 200 children from disadvantaged families and orphanages from Vietnamese-Korean facilities and others on the occasion of Children's Day, June 1.
Opened on May 31, the event included many activities for children, such as taekwondo performances, choir singing by the Miracle Choir, a magic show, and others. Children also experienced Korean culture, such as photo ops with Korean cartoon characters, putting on Hanbok costumes, and playing traditional Korean games.
About 60 Korean and Vietnamese children joined a drawing named "visiting my friends' country", in which the children painted maps of Vietnam and Korea using their footprints with acrylic paint.
Park Nark Jong, Director of the Korean Culture Centre in Vietnam noted that the activity was not just fun, but was also an educational activity for the children to learn about each others' land. Through this program, the future masters of the two countries can better understand and strengthen the bilateral relationship between Vietnam and Korea.
VNS/VNS/ND/VOV/TN